PETITE PEACH MAN
BLIND BOX VINYL TOY
DESIGNED BY NO. 1 RATTY AND INDEPENDENTLY PRODUCED BY ANONYMOUS RAT
PETITE PEACH MAN is a 2″ Blind Box Vinyl Toy, sculpted & designed by Chicago-based No. 1 Ratty, and independently produced by Anonymous Rat! Every Petite Peach Man comes in his very-own box, ready for you to unwrap and discover which juicy little Peach Man is inside waiting to join your collection!
All Peach Men start out as Petite, before they have experienced the harsh realities of the world (and grown arms). These are some of the purest, juiciest, and downright tastiest Peach Men known to humankind! That's why Duck Man has enlisted his fleet of BeeDucks to catch, detain, and process Petite Peach Men! They've boxed them up for you, and the only way to find out which flavor you're going to get today is to open it up! DUCK MAN IS OUR #1 FAN… THE TASTY WORLD OF PEACH MAN!
COLLECT ALL SIX UNIQUE COLORWAYS!
DESIGNED BY NO. 1 RATTY
ORIGINAL PEACH
RAINBOW LOVE
NUCLEAR GREEN
POISONED PEACH
GRAPE SODA PURPLE SPARKLE
GOLDEN SPARKLE PEACH
WHICH PEACH MAN IS YOUR FAVORITE?
Each Petite Peach Man colorway is totally unique! We have a combination of classic, transparent, sparkly, and glow-in-the-dark variants to keep you entertained!
Height: 2 inches / 50 mm
Material: Rotocast Vinyl
Artist: No. 1 Ratty
Release Date: 3/26/2021
ORIGINAL BOX ART, ILLUSTRATED BY NO. 1 RATTY!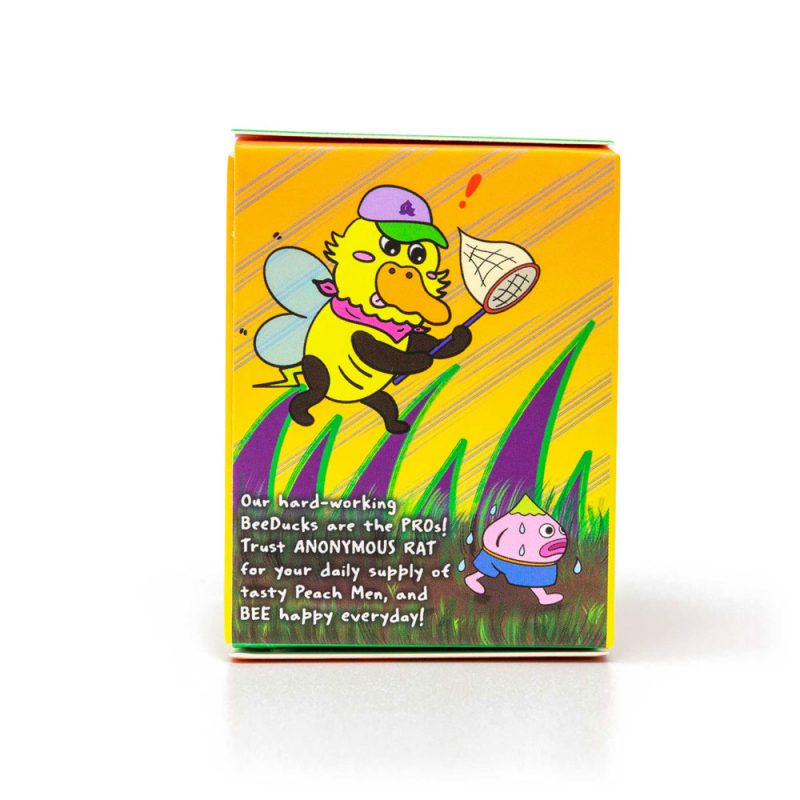 LIMITED-TIME SPECIAL OFFER!
You don't  want to miss our special offer! There will never be a better time to pick up your very own Petite Peach Man! Get yourself a set of ALL SIX PETITE PEACH MEN and enjoy FREE WORLDWIDE SHIPPING on your order today!
FREE SHIPPING WORLDWIDE
Free US Shipping for any Petite Peach Man
Free Worldwide Shipping for the Petite Peach Man Full Set
IN-STOCK today! Ships direct from Anonymous Rat HQ!
BLIND BOX FUN, NO RISK
Buy a full set to get one of each Petite Peach Man!
Make sure you get your favorite and no duplicates!
Want to take a risk? You may find a super-rare, mystery Peach Man by No. 1 Ratty!
DIRECT FROM ANONYMOUS RAT
We aim to provide the best experience on the internet! All purchases from anonymous-rat.com are backed by our 100% Fun and Satisfaction Guarantee.
Support our independent artist-run company!
Every purchase helps us create new products!